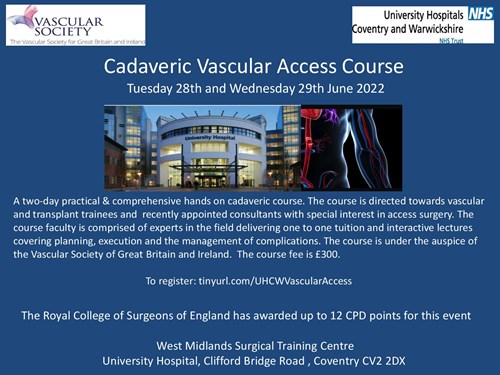 STARS 2022, taking place on 8 July will offer a unique opportunity to engage with world-class national and international faculty discussing and debating critical issues in lower limb revascularisation and limb salvage. STARS 2022 will continue to be an informal and interactive forum to exchange expertise and knowledge between attendees and key opinion leaders.
 
Taking place at Etc. Venues, County Hall in Central London, STARS 2022 offers an excellent opportunity to meet with colleagues and exposure to the latest innovations and cutting-edge techniques in complex lower limb interventions.
 
If you would like to take a look at the programme and register, please visit: https://www.starsymposium.co.uk/
The flyer below details the new digital learning platform run by Gore for Vascular and Radiology Trainees (ST6+) and consists of 8 Vascular modules running from October through to May. Each module is related to a  patient Case, and is broken down into 3 sections:
Case & Patient Background
Planning & Treatment Options
Outcome and Follow up
The module material is available online over 3 weeks through ppt slides, with written questions posed at the end of each section for the trainees to answer. There is also a discussion Forum where the delegates can ask questions to the trainer and the group.
At the end of the 3 weeks there is a 'live streamed' session by the Physician who compiled the case material, who will add further detail to the case and answer any questions that the delegates may have.
4 of the sessions will be EMEA sessions and 4 will be UK only sessions.